ForumDate: 14-06-2019 by: ATT LOGISTICS
Surcharges
Types of international shipping surcharges are a problem of many import and export customers interested and consulted in the past. In order for customers to know the types of surcharges in sea transport, ATT Logistics would like to list the following specific information:
1. Terminal Handling Charge
Loading and unloading charges at ports are the fee collected on each container to cover expenses for port cargo handling activities, such as container handling and container handling ...
2. Handling Fee
Handling fee is a fee to pay for the process of a Forwarder dealing with their agent overseas to agree on the representation of an overseas agent in Vietnam to perform some tasks such as manifest declaration with the agency. customs, issuing B / L, D / O as well as related documents ...
3. Delivery Order fee
This fee is called a delivery order fee. When there is a consignment imported into Vietnam, consignee must go to Shipping Company / Forwarder to get delivery order, bring it out of port and present to the warehouse (retail) / make EIR (FCL container) get goods. Shipping Lines / Forwarders issue a D / O and so they charge a D / O fee.
4. (Advanced Manifest System fee)
About 25 USD / Bill of lading. This fee is mandatory because the US, Canada, and some other countries require a detailed declaration of goods before they are loaded onto ships for shipment to USA, Canada ...
5. ANB fee is similar to AMS fee (Applied to Asia)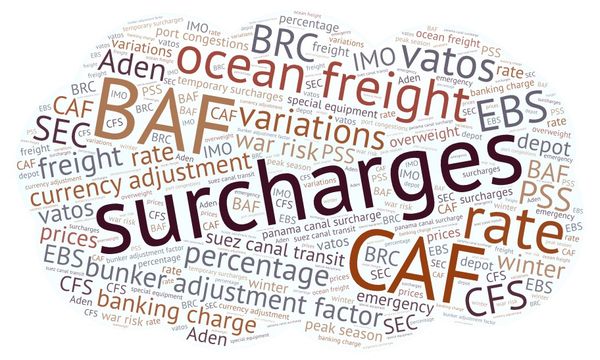 6. Fee B / L (Bill of Lading fee), fee AWB (Airway bill fee)
Documentation fee (Documentation fee). Similar to the D / O fee but every time there is an export shipment, the Forwarders / Forwarders must deliver a cargo called Bill of Lading or Airway Bill (goods transported by road) ).
7. Fee CFS (Container Freight Station fee)
Each time an odd export/import shipment is available, Consol / Forwarder companies must unload goods from the container into the warehouse or vice versa and they charge CFS.
8. B / L editing fee (Amendment fee)
Only applicable for export goods. When issuing a set of B / L for shipper, after the shipper is taken or for some reason need to correct some details on the B / L and ask the shipping company/forwarder to correct, they have the right to adjust repair
9. Charges BAF (Bunker Adjustment Factor)
Surcharge of fuel price fluctuations. An extra charge (in addition to sea freight) charged by shipping companies to offset costs incurred due to fluctuations in fuel prices. Equivalent to the term FAF (Fuel Adjustment Factor) ... - Fee BAF (Bulker Adjustment Factor): fuel surcharge (for Europe route). - EBS (Emergency Bunker Surcharge): fuel surcharge (for Asian routes).
10. PSS Fee (Peak Season Surcharge)
Surcharge peak season. This surcharge is usually applied by shipping lines during the peak season from August to October when there is a sharp increase in the need to transport finished goods to prepare for Christmas and Thanksgiving Day in the market. American and European schools.
11. CIC Fee (Container Imbalance Charge)
Or "Equipment Imbalance Surcharge" is an imbalance surcharge for container containers, also known as surcharges for imported goods. It can be understood that this is an extra charge for transferring empty containers. This is a sea freight surcharge that shipping lines charge to offset the costs arising from re-position a large number of empty containers from the surplus to the missing place.
12. General Rate Increase GRI (General Rate Increase)
Surcharge of freight (only occurs during peak season).
13. Electricity fee (applicable to cold cargo, a container running at ports)
The power must be plugged into the container so that the container air conditioner will run and keep the temperature for the cold.
14. Container cleaning fee (Cleaning container fee)

15. Container storage fee at the port yard (DEMURAGE)

16. Port storage fee (STORAGE)

17. Charges for collection of imported sea freight (Charge IFB)
It is the cost of transporting containers, retail goods, cargoes ... that should be paid in the exporting country by the exporter, but for some reason (due to delivery conditions, due to the agreement between the exporter and importer for example) that this fee is paid by importer at the destination.
Destination forwarding companies are obliged to charge their agents abroad for freight and return them to those agents.
18 Fee ISF = Importer Security Filing
Security declaration for importers. In addition to the declaration of US customs information automatically, in January 2010, US Customs and US Border Protection Agency officially applied additional procedures for security declaration for importers (ISF - Importer Security Filing ).
In addition to the same information as the AMS declaration, the procedure for filing an ISF form requires the importer in the United States to provide additional information such as the manufacturer, importer's information (Importer of record number), product code. (Commodity HTSUS number) and a carrier that loads goods into containers (Consolidatior). This information is also required to be declared to US Customs 48 hours prior to the vessel's arrival at the port for departure to the United States.
Often the declaration of ISF (Importer Security Filing) will coincide with the declaration of AMS and transport agents that will help the importer declare this information. The cost of the ISF declaration is also about 25 USD / Bill. (two thousand and thirteen)
19 Port jam charges / port congestion charges / collection charges PCS (Port Congestion Surcharge - PCS)
It is a seasonal fee when there is a possibility of cargo congestion at the port (causing the cost of storing the extra yard to be too large, or the ship entering the ship to wait for 2-3 days to release. be container). Some shipping lines and agents take advantage of that to take advantage of the port congestion charge, even if the cause of congestion is not caused by the port, but because of traffic jams to the port ...
20 Fee for changing destination port - COD fee (Change of Destination)
A shipping carrier surcharge to offset the costs incurred in case the cargo owner requests a change of destination port. for example loading and unloading fees, transfer fees, container storage fees, road transport ...
For further information, please contact the information below:
- ATT Logistics Vietnam Joint Stock Company
- 12th floor, Tung Shing building - No. 2 Ngo Quyen, Ly Thai To ward, Hoan Kiem district, Hanoi
- Tel: + (84 24) 3218 1166
- E-mail: sales@attlogistics.vn